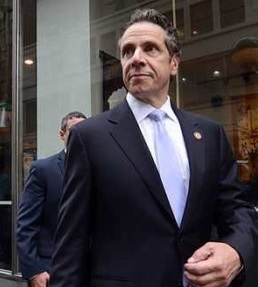 På tross av president Trumps oppfordring om å gjenåpne kirker og synagoger forsøker den demokratiske guvernøren, Andrew Cuomo og sabotere for gjenåpning av kirker og menigheter. Andrew Cuomo som forøvrig er bror til CNNs nyhetsanker Chris "Fredo" Cuomo sier han vil motarbeide gjenåpning av kirker, synagoger og andre religiøse arrangement til det siste. I følge Cuomo vil kirker, idrettsarrangement og konserter. Imidlertid sier guvernøren at han vil vurdere å tillate enkelte religiøse lokale å åpne for små grupper av mennesker, men ingen fullskala gudstjenster kan finne sted før man er kommet til siste fase av gjenåpningen av USA. Den demokratiske guvernøren blir ikke bare kritisert av et voksende antall kristne pastorer, men også selveste president Trump mener at Cuomo går for langt i sin undertrykkelse av kristne gudstjenester og synagoger.
Blant amerikanske kristne vekker guvernørens motstand mot kristen virksomhet sterke reaksjoner. "Yet he is still allowing the muslim mosques to remain open, and he is still providing "free" (@ tax payer expense) ramadan meals to those same muslims." skriver signaturen Moreover og får følge av signaturen Vlad som skriver dette: "Absolutely disgusting, special rules for muslims as usual." Chet på sin side skriver dette: "IMO, only, I suspect this brazen man is setting the stage for an awful event at the hand of God Almighty. This drawn-out keeping of Christians and believing Jews from going to their place of worship as is customary will come at a great price even as liquor stores and abortion clinics do as they see fit.2
Den sanne kirke lyder Gud fremfor mennesker
Lydia Church som skriver dette: "The true church,  meets anyway! We do not NEED his permission, we don't need ANYONE'S permission, because we have God's command to do so! "Forsake not the assembling of yourselves…" Hebrews 10; 25 "We must obey God rather than man." Acts 5; 29
We obey God above man when there is a contradiction such as this one.
And yes, God is 'bigger' than this crisis and CAN heal you if you are sick, He has already done so with many! So let THAT be a lesson to the 'unfaithful'!
The answer is to turn to God for the solution, pray and ask Him for help in the situation, but oh…. how few get this!" "However the reaction by all parts of government to this virus has been unreasonable.There is a tremendous amount of misunderstanding and misdirection. At the back of all this laughing his head off is the enemy of our soul. It is quite time for all Christians to really place their trust in Jesus Christ of Nazareth rather than man. For a terrific Godly response to this look at Jack Hibbs, Calvary Chapple Chino Hills," skriver signaturen Ian4j.