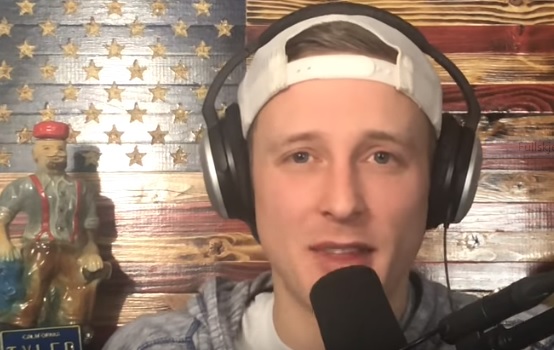 Demokratenes omfattende forsøk på å stjele valget gjennom juks og manipulasjon med stemmesedler vekker raseri blant Trump tilhengere som stiller stadig flere spørsmål med hva som egentlig skjer med opptelling av stemmesedler i vippestatene. Påstander om direkte juks, bruk av umerkede stemmesedler og falske stemmer begynte å versere etter at det ble avslørt et nattlig dump av 148 000 "in absence" stemmesedler i Wisconsin. I følge flere kilder skal 96 prosent av in absence stemmene ha gått til Joe Biden -og flere hevder at dette er en matematisk umulighet -og at det dreier seg om omfattende valgjuks. En som reagerer sterkt på det som skjer er YouTube profilen Tyler Zed.
I et spørsmål lagt ut på Twitter spør den unge mannen dette spørsmålet: "Again, WHY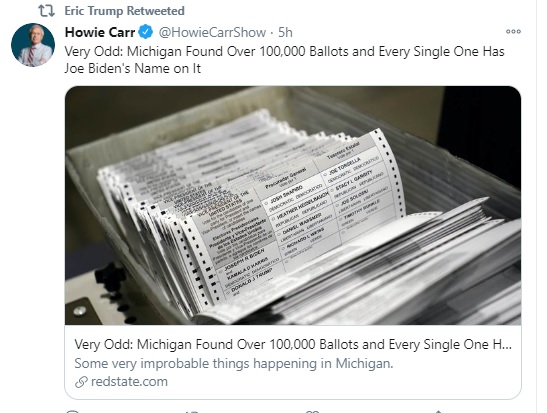 in the hell is Nevada waiting to count the rest of the votes until tomorrow?" -og vi skal se litt på de svar Tyler Zed har fått fra noen av sine 164 000 følgere. Vi velger her å la være å oversette svarene: "To see if Biden needs it."  -"Need to know if cheating will be needed. Like if Trump were to take MI or WI, they could pad their stats in NV." -"takes time to fill in the circle by Bidens name" -Rigging it. -The need more to fill out, -Waiting to see how many votes they need to produce, -Insurance for Biden. Or if Biden wins before tomorrow they will give it to Trump so the election looks " legitimate", -"Finding" enough Joe ballots just in case, -To throw trump ballots out, -They need to know how many to suddenly find in a closet before they go create them.,-To "find" enough "lost" votes for Biden to win., -Come on, man. They don't know what the number needs to be yet. -This is why…
?? BIDEN ADMITS TO VOTER FRAUD! ??@JoeBiden brags about having the "most extensive VOTER FRAUD organization" in history‼️

WATCH ⬇️pic.twitter.com/ft7u07kUX0

— Kayleigh McEnany (@kayleighmcenany) October 24, 2020
Seeing if they need to rig it or if it is not worth their time, -They need to know how many to count??!!, -So what's happening with Arizona right now,- They need to know how many phony ballots are needed to fraudulently take the state. -Cause Prophecy bro.Remember, remember, the Fifth of November Voter fraud treason and plot
I see no reason why voter fraud treason Should ever be forgot" -They need to print off a couple hundred thousand more for Biden, -So they can write out some mall in ballets. -Awaiting orders, if needed. -Another delay? Another attempt to screw over the people's vote. -I'm sure we all know why, -so they can cheat of course… -They're still filling them out…..Grinning face with smiling eyes, -VOTER FRAUD!!!! -er blant noen av svarene han har fått.
Samtidig som stadig flere stiller spørsmål og forstår at dette er det største valgjuks i Amerika, går Joe Biden fremfor pressen og slår fast at han og Kamela Harris har vunnet. I følge Biden vil de vinne 78 prosent av de stemmene i Pennsylvania som ennå ikke er talt opp. I sin vinnertale lover Biden en hard tid fremover.
Facebook Comments